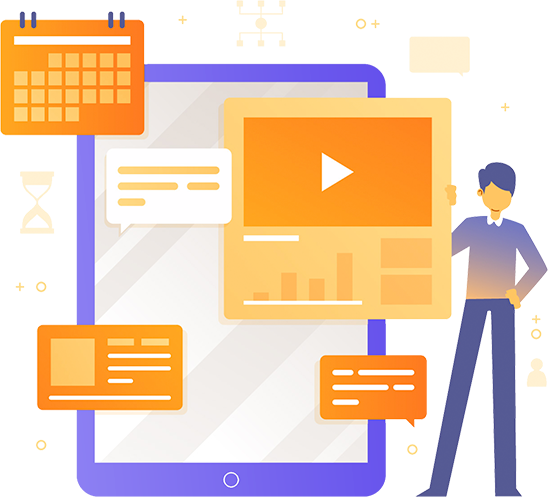 Leveraging Mobile App Development for Business Growth
You are wrong if you believe mobile applications are just for well-known firms like Amazon and eBay. More and more small and medium-sized organizations are adopting a mobile strategy, realizing that a successful mobile process entails more than simply a mobile-friendly website.
You'll note that many small companies you engage with daily now offer their specialized mobile app, for example, the corner coffee shop or the downtown automobile repair shop. These firms are ahead in harnessing technology to push their marketing to the next level.
For the average customer, living without a cell phone in this era of mobility is difficult. The reason for this is that smartphone applications have simplified human existence. These applications redefine how consumers connect with companies and their daily lives. As a result, more SMEs and SMBs collaborate with capable mobile app development firms to create innovative mobile app solutions for their enterprises.
Building a mobile App for your company is a significant undertaking. Therefore, you may need to incorporate expert assistance to fully harness the benefits of deploying a mobile App solution. In this article, we will expound on why your company needs its custom app. We will also highlight mobile business apps' functional and marketing advantages and how to utilize them.
How Do You Know If Your Company Needs a Mobile App?
The popularity of mobile devices is increasing, and individuals spend a significant amount of time engaging with mobile applications on their smartphones and tablets. According to eMarketer, over 96% of Americans have cell phones, and 85% own a smartphone. Hands are busy typing away on smartphone apps throughout the nation. This accounts for 88% of digital media time spent by U.S. citizens over 18.
The issue isn't whether your firm can profit from owning its mobile app. Instead, it's a question of how best to deploy and maintain the solution, injecting your app with new material and engaging features that keep users returning.
Here are some helpful considerations when making plans to deploy your business app solution:

What is Your Objective?
When establishing a mobile app for your company, consider how you would use it and what specific functionalities you need. A specialized mobile app can benefit your existing and prospective consumers in various ways. It can bring in new consumers and better serve current ones by advertising new goods and services, special deals, loyalty programs, and other in-store or remote commerce rewards. A mobile app also provides a continuous, real-time connection to your consumers. They can examine available items, check your hours, identify locations, obtain directions, and access any other information you desire. A well-designed app makes all necessary information and services accessible with a few clicks. You're doing it wrong if your software doesn't simplify life and provides value for your consumers.

What do Your Clients Want?
Consider what clients want when developing a specialized app. According to Heady research, customers depend on apps with a comfortable and easy-to-use layout. They also like applications with better discounts or promotions not seen on other platforms, such as the business's website. According to the survey, younger customers (aged 16 to 34) are more inclined to use an app that offers more personalization. On the other hand, those with an annual income of less than $50,000 are likelier to favor applications that incorporate mobile wallets for payment, such as Apple Pay and Google Pay.

Who are Your Clients?
Consider your consumer base and their possibility of utilizing the app while developing a mobile app. Most firms aim for a diverse consumer base between ages 18 and 66. According to Google, younger users (13-25 years old) visit applications more than twice as frequently as those over 45. Nevertheless, if an app does not meet their requirements, they are likelier to abandon it. Those over 45 favor mobile browsers over applications, but when they use apps, they have 25% more engagement rates than younger users. Users between the ages of 25 and 44 are the most engaged with applications, especially retail apps.

What Advantages Does an App Have Over Your Present Website?
Mobile apps provide more simplicity and convenience in comparison to mobile websites. A dedicated app can boost your online presence even if your website is mobile-friendly, responsive, and transitions effortlessly between desktop and mobile browsers. Apps are, by definition, mobile. They evolve with mobile trends. As a result, they conveniently focus on urgent, customer-centric issues. Because of this, users prefer mobile apps over mobile websites. According to VWO, an A/B testing tool platform, apps provide greater personalization and efficiency. Users can harness innovative features such as alerts, offline mode, and speedy loading times.

How Mobile-savvy are Your Customers?
Unsurprisingly, the same group that enjoys installing new smartphone applications spends more time experimenting with them. Younger consumers utilize apps regularly. As a result, they are more familiar with them and understand how they work. They operate a vast quantity of data when using their mobile devices. Because of the popularity of retail applications, people aged 25 to 44 are the ideal demographic whether you want to sell your items online or promote an in-store experience. People aged 45 and above need to become more familiar with mobile applications and how they function since they ideally prefer using desktop computers. They are more inclined to utilize an app with recognizable features and a simple UI.

What is Your Approach to Developing an App?

When you've decided to construct an app, the following step is to plan your strategy. Should you use an off-the-shelf app builder to create your product? Should you engage a professional mobile app development company to construct a customized one from scratch? Utilizing a software builder to build your app is not difficult, and it has its perks. However, it requires time, which you may not have, and may cost more to maintain in the long run, even though it may offer only some of the features and customizations your users may like to see. Considering all of these, you should consider hiring experts. They are more reliable and can provide a mobile app solution tailored to your company's needs.
Benefits of Adding a Mobile App Solution to Your Business Strategy
If you still need to figure out why any company would want to create its custom mobile application, here are the top reasons to start now rather than later:
Open and Honest Communication with Clients and Customers
One of the reasons your company needs an app is to facilitate direct connection with clients and consumers. Business mobile application development enables clear and more direct contact between consumers and enterprises, providing instant access to solutions at the touch of a button. 
Also, the data collected from consumers through mobile Apps is vital for any organization. Companies can quickly study customers' buying behavior and profiles and efficiently improve their marketing campaigns.
Boost Customer Engagement
Successful brands listen to their customers. They provide them with more straightforward ways to communicate. Customers often connect with you because they want to know the solution to a query about your service or purchase. Or they want to make a complaint.
A mobile app facilitates these processes for everyone, enabling customers to convey their issues and obtain a response faster. As a result, they'll engage more and be less likely to post negative reviews.
Establish a Valuable Marketing Channel
Custom app creation enables customers to get marketing updates in real-time. If the information is valuable and relevant to them (such as exclusive bargains and offers), it can boost client loyalty.
Stay Ahead of the Competition
One of the essential advantages of using mobile Apps for the company is that it will help you stand out. You can always think outside the box and explore more innovative ideas, giving you an advantage over your competitors.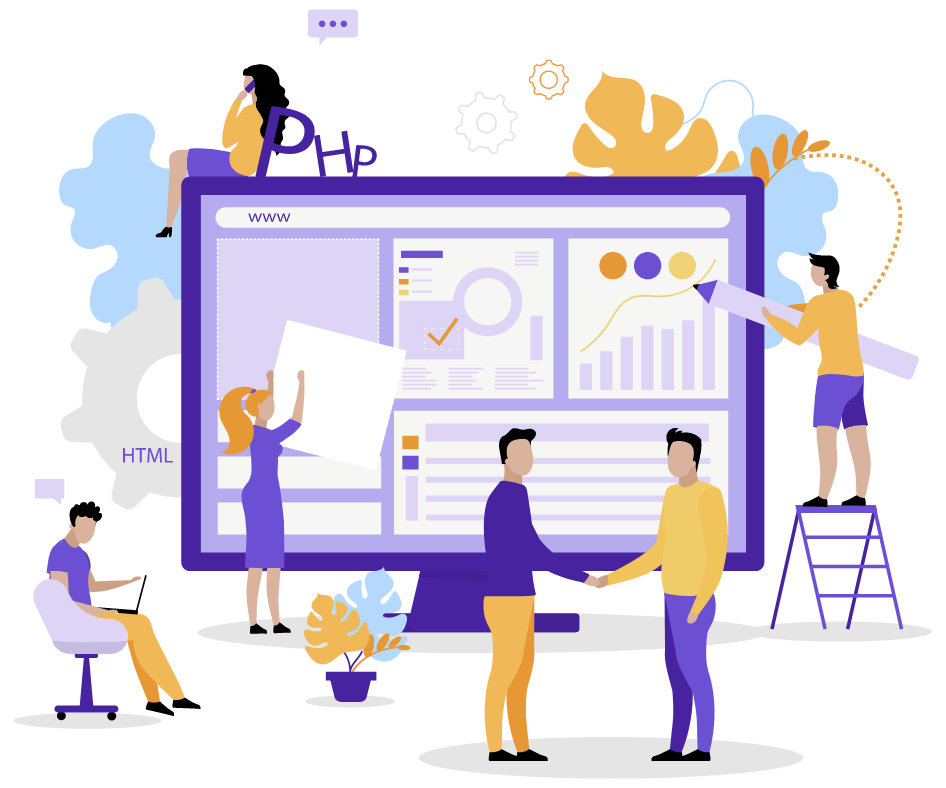 A mobile App is an extension of your brand. Thus, it allows you to maintain your brand identity while exploring innovative ways to present your business to newer digital platforms. Apps also serve as efficient advertising resources, offering the unique ability to say anything you want while connecting with your customers.
Creating your company's mobile app allows you to reach newer audiences. As a new platform, corporate mobile application development may bring a new demography of clients who prefer apps over web browsers.
Establish an Effective Loyalty Strategy
Assume your organization has a loyalty program or is considering implementing one to boost sales. A digitalized loyalty system delivered through a mobile App might be effective in such instances. It's an efficient way to establish and maintain a customer community. When you compensate customers for their support and loyalty, they'll be more inclined to return. Mobile apps make it easy to accomplish this. 
Why Should Your Company Consider Using Mobile App Development to Out-perform Competitors?
You are most likely communicating with your consumers online right now. You may have an essential website or a web portal to deliver services to your clients (e.g., an online shop, a booking system, a product configurator, etc.). However, developing online and mobile apps puts you in a unique position to understand your users' and visitors' needs. 
For example, consumers may prefer making payments through a mobile app rather than a website. Below are other crucial reasons to consider incorporating a mobile App solution into your business:
Limit and Manage User Entry Effectively 
If you give your product or service to your clients using an iOS (iPhone / iPad) or Android App, every new disruptive rival start-up entering your market will have to do the same. As a result, you increase the barrier to entry and safeguard your market position.
Provide Distinctive Services
A mobile App for your company allows you to provide your services in new and more competitive ways. For example, you can match your products with competitor products and offer better pricing or delivery, instantly sweeping the consumer base your way.
Provide Customers with a Truly Mobile Experience
Your app provides a competitive advantage in the industry by enabling your customers to interact with your brand offline, offering a truly mobile experience. You will give your customers more value while learning from their usage statistics and the data they provide.
Benefits of Hiring Professionals for Your Company's Mobile App Development
The world of mobile app development is ever-changing. When a new operating system version with unique features is released every six months or so, there will be adjustments and contemporary concerns.
Some Android and iOS upgrades may alter how applications function. As a result, you must incorporate a sustainable solution to remain up to speed on upgrades and innovations to prevent incompatibility or cybersecurity risks. 
The app development process involves six critical phases, regardless of the project you wish to bring to life. Experts can help you break the task into manageable sections, providing a robust and sustainable app solution. 
Below are some critical areas of focus:

Idea
Professionals can help you determine what issue your app addresses, whom you're targeting, why its features are significant, and whether comparable applications exist. Afterward, they can help you design an interface that allows users to browse the app efficiently.

Development
Experts utilize advanced and updated resources when building your app's code. They also pass it through thorough screening and testing afterward.

Testing
Partnership with a professional mobile app development agency is long-term. They will continue to work with you to test and reduce your apps' flaws while trying out more innovative ideas to improve your users' value. When your program is bug-free and ready to go, if you want, you can publish it on marketplaces such as the Apple App Store and the Google Play Store. Otherwise, you can make it exclusive to your customers.

Marketing
Professionals can help you develop a solid marketing plan to get people to download your app and provide feedback on improving user engagement.
Your business will most likely profit from having its specialized smartphone app. Many of your current and potential customers already appreciate the convenience of mobile purchasing and other benefits associated with mobile app development. Because of the popularity of the mobile arena, many clients will anxiously anticipate your app; it is up to you to give the services and more user-friendly experiences.
You should understand that regardless of how much you want to spend on designing an app, it is only profitable if it offers a beautiful user experience, and you can maintain it in the long run. If this sounds like you, it will help if you incorporate experts for the job. This way, you can get it right the first time.
Contact us to learn more about our comprehensive mobile app solutions and how they can benefit your business.